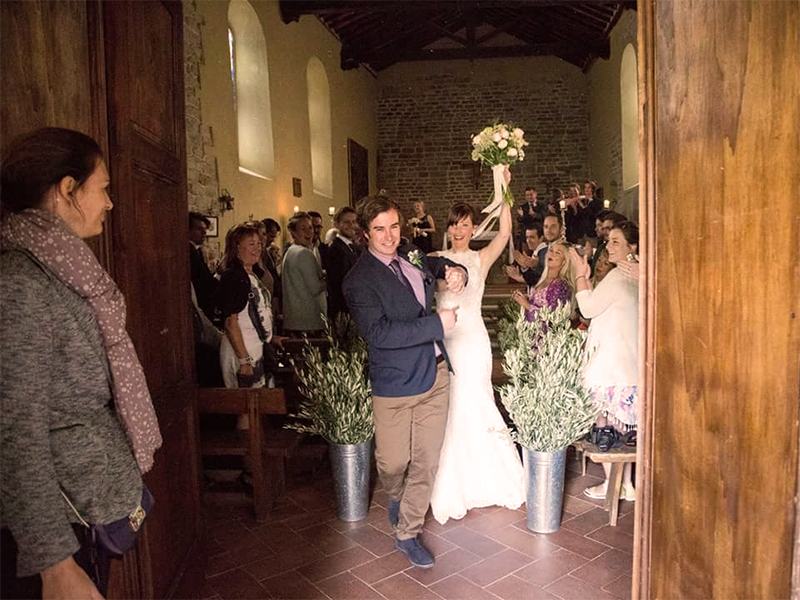 Marlou & Byron : " What a show Tuscany put up for us!"
Wow what a show Tuscany put up for us, all thanks to TrouwenInToscane!
Late 2013 we started looking into where we would want to be getting married. Originally from the Netherlands but settled in Australia with my husband-to-be, we decided to tie the knot in Holland. It wasn't long after that I stumbled upon the website TrouwenInToscane.nl. After an email or two to Roos we were sold, Tuscany it was! Together with florist Sonja, Roos would be able to organize everything, it sounded almost too good to be true! We went through many possibilities and options and decided to go for the "budget" option (other than our actual tight budget, there was nothing about our stay and 'day' that felt budget). We decided to stay 3 nights in a beautiful medieval location somewhere secluded upon a hill in Tuscany. Enough space for two counties to gather and party. It was just the best time of our lives!
I had had some contact with Sonja and Roos prior to the wedding about the flower arrangements and decoration. I had had no idea what i wanted so a theme was picked for us which suited our characters so well it was like we had met many times before! But seeing it in real on the day was phenomenal. It took my breath away. There was no way in my mind I would've thought this was what "My" day (because it's all about the bride!) would look like. So stunning. And the flowers…… wow. Sonja truely went above and beyond.
I cannot put into words how valuable having a "weddingplanner" was. Unlike most brides I was not too fussed about the little things (perhaps adjusted a little too well to the Australian lifestyle) but I didn't have to with Roos on scene organizing it all. I not once felt the "wedding stress" that I have seen happening with friends. You will only have your (1st) wedding day once, having it without stress is beyond what money is worth (and for the record, even the low income earners can have the luxury of a wedding planner!!)
Sonja and Roos, THANK YOU so much for everything,
Byron and marlou